One of the biggest reasons to make Sin Choy (Pickled Mustard Cabbage) is to prepare this wonderful recipe. Sweet and sour, a very popular restaurant dish.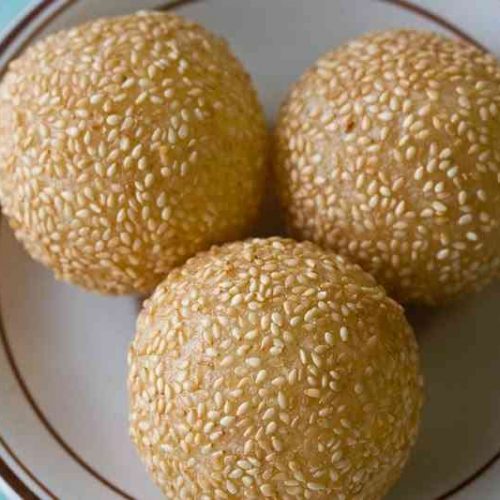 Rate This Recipe:
Char Siu Gin Doi
A popular dim sum item. Traditionally filled with either coconut, black beans or char siu mixture. Light, crispy and chewy.
Ingredients
1

lb mochiko (glutinous rice flour)

3/4

c. sugar

2/12

teaspoons baking powder

1 1/4

c. water

1

tsp. gin

1/2

c. char sui, minced

1/4

c. dried shrimp, minced

1/4

c. green onion, minced

2

TB hoisin sauce

1/2

tsp. salt

1/4

tsp. sesame oil

1/4

tsp. ground white pepper

1

c. white sesame seeds

oil for frying
Instructions
In a mixing bowl; combine mochiko, sugar and baking powder. Stir in water and gin.

Turn the dough out onto a work surface and knead until smooth, about 5 minutes.

In a separate bowl, combine char sui, shrimp, green onion, hoisin sauce, salt, sesame oil and pepper.

On work surface; divide dough into 20-24 balls. Flatten each piece with your fingers.

Place a heaping tablespoon of filling in center of each piece.

Pinch the edges together to seal in filling.

Spread sesame seeds onto a shallow dish.

Roll dough balls in seeds, pressing lightly to help the seeds adhere to the dough.

In a large skillet or fryer, heat oil.

Fry doughnuts; turning frequently until golden brown 6-7 minutes.

Makes approximately 20- 24 doughnuts.
How To Serve:
Serve with favorite dipping sauce.