Is your mouth watering yet? Just the thought of pickled mango makes my mouth water. It reminds me of the days going to the crackseed center or the countless summer days making up various concoctions of shoyu mango.
Some like it sweet, some like it sour. Pickled mango gave you the best of all worlds… sweet, sour, tangy, salty… For an added treat, we used to add li hing mui and drink the juice all day long. For those of you who don't know, li hing mui is a preserved plum that is usually sweet, salty and sour. It goes perfectly with pickled mango.
The Mexicans have something similar called saliditos which are usually preserved with salt and chili'. If any of you have green mangoes, send some to California!!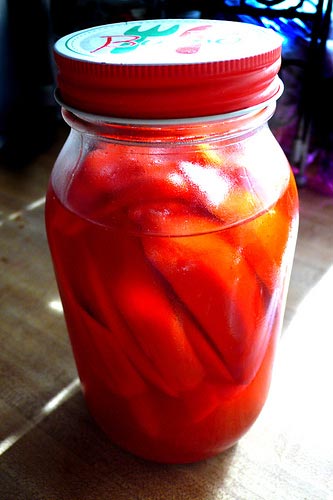 Rate This Recipe:
Pickled Mango
This Pickled Mango is a Hawaii's favorite snack!
Ingredients
3-4

c.

green mango slices

1

c.

rice vinegar or vinegar of your choice.

2

tbsp

apple cider vinegar

(adds more bite)

2

c.

sugar

1/4

c.

Hawaiian Salt
li hing mui seeds

(optional)

red food coloring

(optional)
Instructions
Peel & cut green mangoes into slices.  If the mango is soft enough, cut through the entire seed and cut into quarters.

Place mango slices into a glass jar or ziplock bag.  Add li hing mui seeds if you choose to.

In a pot or saucepan, combine vinegar, sugar and salt in a non-reactive saucepan and bring to a boil. When sugar and salt are dissolved, remove from heat and cool to lukewarm.

Pour over mangoes. Cover and let stand for 24 hours, then store in refrigerator.