Mashed potato salad? This is a recipe that I somehow came up with years ago. I'm not even sure how it came about. My best guess is that I probably had a version of this potato salad at a Japanese restaurant. This is my interpretation…I call it the lazy man's potato salad.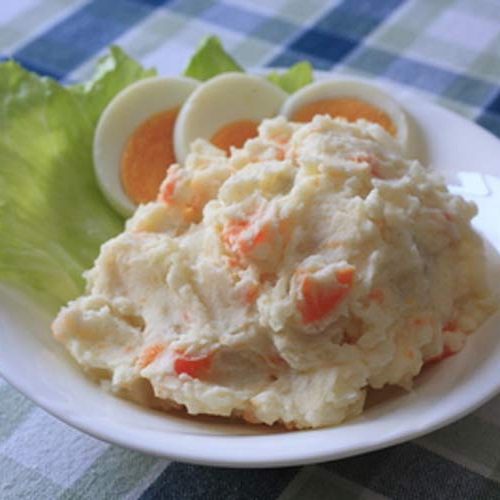 Rate This Recipe:
Mashed Potato Salad
Mashed potato salad often found on hawaiian plate lunches and pot lucks at local gatherings.
Ingredients
6

large

russet potatoes

10

eggs

1

large

carrot

1

tsp

finely minced onion

1.5

c.

mayonnaise

1

tsp

salt

1

tsp

pepper

Imitaton Crab Meat 

(optional)
Instructions
Put potatoes and eggs in a large pot, fill with water and boil for 1 hour or until potatoes are tender.  Eggs can be removed 20-30 minutes after water starts boiling.

Chop onions until very fine or liquify in food processor (set aside).

Grate Carrot into bowl of water.  Drain water squeeze excess carrot juice out of carrots (to prevent the orange juices to leak into the salad). 

Peel Eggs and grate into a large mixing bowl.

Peel Potatoes and place into large mixing bowl.

Add Onions, Carrots, Salt, Pepper.

Using a potato masher, mash the potatoes.

Add Mayonnaisse and mix thoroughly.

Mix in crabmeat and any other garnish that you enjoy ie. cucumbers, olives, pickles etc…. I like mine simple.

Chill for at least an hour before serving.
How To Serve:
Serve chilled. Top with green onions if desired.