The full name of this cake is pumpkin spiced croquembouche on a caramel mud cake with honey butter cream. It is a fairly involved cake to make, but if you are looking for a cake with wow-factor, this is it. This recipe is shared courtesy of Melinda Lo!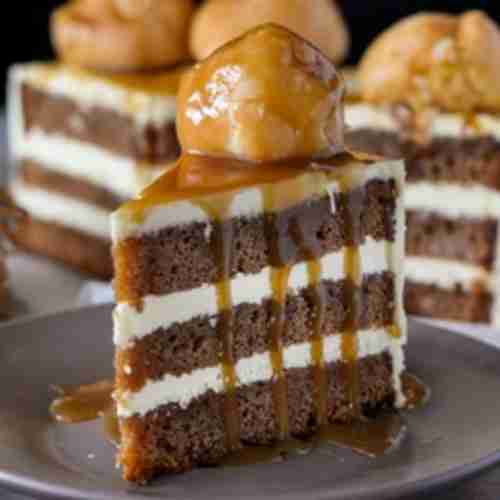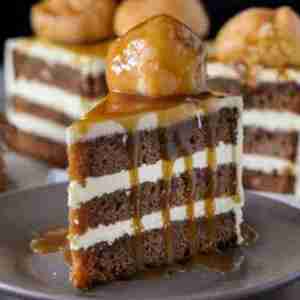 Rate This Recipe:
Pumpkin Spiced Croquembouche
The full name of this cake is pumpkin spiced croquembouche on a caramel mud cake with honey butter cream.  It is a fairly involved cake to make, but if you are looking for a cake with wow-factor, this is it. 
Ingredients
Puffs
7

tablespoons

Butter 

2 1/2

teaspoons

sugar 

8

ounces

milk 

1/2

teaspoon

salt 

1/2

cup

water 

1

cup

plain flour 

4

eggs
Cake (adapted from taste.com )
10.5

tablespoons

butter,

cubed 

1

cup

white chocolate

(any eating/cooking chocolate), chopped 

1

cup

light brown sugar,

packed

3/4

cup

warm milk

1

tablespoon

honey 

1

scrape

vanilla bean pod 

2

eggs,

at room temperature 

2

cups

plain flour 

1.5

tsp

baking powder 

1/2

tsp

baking soda 

1

teaspoon

course pink sea salt 
Pumpkin Pastry Cream
1

cup

whole milk

3

egg yolks

1/4

cup

pumpkin puree

1/4

cup

granulated sugar

1/8

cup

all-purpose flour

1/2

teaspoon

ground cinnamon

Pinch

grated nutmeg

Pinch

ground cloves

2 + 2

tablespoons + teaspoons

cornstarch

1

teaspoon

pure vanilla extract
Honey Swiss Butter Cream 
5

egg whites 

3/4

cup

caster sugar 

1/2

teaspoon

sea salt flakes 

1

teaspoon

of clear vanilla extract 

14.5

Tablespoons

unsalted, cubed, soft butter

1/2

cup

runny honey
Instructions
Puff Instructions
Preheat oven to 375F. Prepare two lined baking trays.

Place butter, sugar, milk, salt and water in a large saucepan and bring to the boil. Remove from heat. 

With a wooden spoon beat in flour. Return to heat and continue beating until mixture comes away from the sides of bowl. I did for about 10 minutes. Remove from heat and cool slightly. 

In large bowl of a stand mixer, place dough ball. Beat mixture for 1 minute for it to cool. Add eggs one at a time, beating well between each addition, until all the eggs have been added and mixture is thick and glossy. Beat for a few more minutes, or until thickened and shiny. 

Spoon half the choux pastry batter into a large piping bag fitted with a 1 cm round nozzle. Cover the remaining pastry with cling film. Pipe mixture onto trays in mounds.

Bake at 400F for 10 minutes then turn it down to 350F for 15 minutes. Once they have browned, feel hollow and firm; Transfer to a cooling rack and immediately piece the bottom of the puff with a sharp knife.
Cake Instructions
Line 8" greased cake pans with baking paper. 

In large sauce pan melt your milk, butter, white chocolate, sugar, honey, vanilla bean over low heat. Stir continuously until melted well and combined. Set aside for 20 minutes to cool. 

Sift baking powder baking soda, flour and salt together. Add eggs whisking well after each addition. Whisk in flour in three batches until combined. 

Pour mix into your cake tins and bake for 30 minutes or until the skewer has a few crumbs left ton it when poked in the middle. Cover with foil if it is browning too much. Leave to cool in pans for 10 minutes then cool on a cake rack until cool. Once cool, wrap in cling film and fridge for one day.
Pumpkin Pastry Cream
In a small saucepan, warm the milk over low heat until it is just hot enough to steam. While the milk is warming, whisk together the egg yolks, pumpkin, sugar, flour, spices, and cornstarch until the mixture is completely smooth.

Once the milk is steaming, add half of it, whisking constantly, to the pumpkin mixture. Add the milk and pumpkin back into the hot milk, continue stirring, and heat it for 1-2 minutes, until the custard reaches 170F on a digital thermometer and is very thick. Remove from the heat, stir in the vanilla extract, and chill the pumpkin pastry cream before using it.

This pumpkin pastry cream recipe makes enough pastry cream to fill 1 standard pastry or cake recipe.
Honey Swiss Butter Cream
In medium bowl whisk together your egg whites and caster sugar. 

Place bowl over a saucepan of simmer water. Whisk continuously until the sugar is fully dissolved. Rub a bit of mix between your fingers to test. 

Transfer mix to a stand mixer with the whisk attachment. Beat until it becomes a big fluffy and white. At this point it should take about 8 minutes for the meringue to come to room temperature. 

Change to paddle mix. While beating the mix on medium with the paddle add the butter a cube at a time until it fully combined. GO slowly here and scrape down the bowl frequently. Once butter is all added, beat on medium high till it is fluffy and pale. 

Add vanilla and beat again. In order to incorporate honey use the final vanilla. While beating on low, pour in the honey into the vanilla swiss butter cream until combined. Set aside for later use.
Assembly 
Cut the domes off your cakes and set aside. 

Ice and fill each cake, you can get wonderful tutorial here on Bakers Royal but just do not do the ruffles. 

Fill your puffs with crème by poking a small hole in the bottom of each puff and using a 1/2" nozzle, pipe the filling in. You can tell if it is ready when you feel the puff have a bit of resistance when you hold it. Repeat with all puffs, set on a baking tray and fridge for 1 hour. Now be prepared here. The final product!!

Take out your cake and puffs. Also if you do not have heat resistant hands like me, get yourself some thongs. 

Place your pan of caster sugar, glucose and water over medium heat and bring to the boil. Once it turns golden brown in 15 minutes remove from heat. Quickly dip each puff into the syrup then on to the cake. If you cake is cold enough the butter cream will not melt too quickly and you will return it to the fridge later so no panic.

Place each puff in a circle pattern, work your way up repeating the dip and place technique to build a tower. So you will place each puff on top of the space between the below puffs. 

Once built, return to the fridge for 1 hour. 
On Serving
Make the other batch of toffee. Using two forks dip then in the caramel then lace over the tower on the cake.

I like to draw a figure 8 pattern on to the cake but do whatever you want. You should get thin strands of caramel setting on the cake. Continue to do this until you have enough for your liking. Now it is ready for serving!