This delicious smoked duck salad recipe was provided compliments of world famous Chef Chai of Chai's Island Bistro, Dining Out with Chai & Singha Thai Restaurant.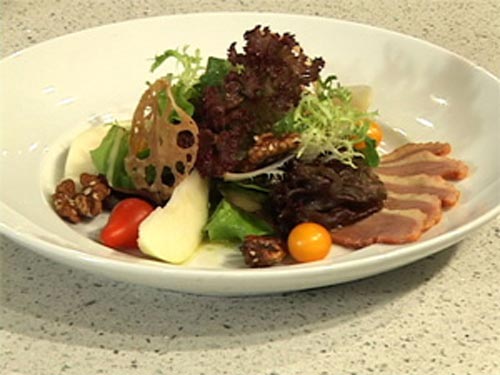 Rate This Recipe:
Smoked Duck Salad w/ Tangerine Vinaigrette
A beautiful salad topped with smoke infused duck and a tangerine dressing.
Ingredients
1

lb

Mixed Green

1/2

lb

Teardrop Tomatoes

16

Slices

Poached Pears

2

Smoked Duck Breast, Thinly Slices

1

C.

Candied Walnuts

1

tbsp

Tangerine Vinaigrette Per Person

Kosher Salt To Taste

1

C.

Black Tea
Vinaigrette:
1

C.

Fresh Tangerine Juice

1

C.

Orange Juice

1/4

C.

White Wine

1

Clove

Garlic, Chopped

2

Cloves

Shallot, Chopped

1/2

C.

Blended Olive Oil

1

tbsp

Tubular Chives Cut Small Pieces

Salt And White Pepper To Taste
Poached Pears:
2

Pieces

Firm D'anjou pear

1/2

C.

White Wine

1/2

C.

Granulated Sugar

1

Bay Leaf

1/2

tsp

Whole Peppercorn

1/2

tsp

Juniper Berry

1

Whole Lemon, Slices
Candied Walnuts:
4

oz

Walnut Halves

2

tbsp

Corn Syrup

2

tbsp

Granulated Sugar

Pinch Cinnamon

Pinch Salt

1/2

tbsp

Toasted Sesame Seeds
Instructions
Rub the Duck breast with Kosher salt until fully coated and let sit over night.

Wet the black tea and place in a small wok or smoker and place over high heat until the tea starts smoking.  Lower the heat to low and place the duck breast on a rack over the smoking tea.

Cover the entire wok or smoker and cook for about 30 minutes, then remove from smoker and let cool.

To serve, thinly slice the breast lengthwise and place a four to five pieces on a plate.

Fan out the duck breast on the top of a plate.

Toss the mixed greens with the vinaigrette and mount in the center of the plate.

Garnish the salad with the poached pears, tomatoes and candied walnuts.
Vinaigrette:
Sweat shallot and garlic with a tablespoon of olive oil for a minute and deglaze with white wine.

Add tangerine and orange juice, simmer with slow heat until the liquid come down to 1 cup let it cool down.

Put in a blender and blend until the dressing is smooth (no large piece of garlic or shallot).

Slowly pour the oil into the blender so that it emulsifies.

Add salt and pepper to taste, remove from blender and add the chives.

Hold in the refrigerator until ready to serve.  You may add some sugar if need.
Candied Walnuts:
Start by toasting off the walnuts in a 275 degree oven until crispy about 5-7 minutes.

Meanwhile, in a saucepot, add sugar, corn syrup, cinnamon and pinch of salt and bring to a boil with medium low heat and to cook until  the liquid bubble and turn color to a light brown. (Must be really careful a few seconds too long can burn the sugar.

Remove from heat and toss the toasted walnuts and sprinkle with sesame seed, mix well and lay out the coated walnuts on parchment paper and let cool.
Poached Pears:
Cut the pear in 1/8 from top to bottom and remove the seeds. Set aside.

Add all the ingredients except the pear in a pot and bring to a boil and lower to a simmer for 5 minutes turn the heat off and toss in fresh pear.

Let it cool down in the refrigerator set aside until ready to serve.

**This is not a normal way to poach the pear, the pear should be under cooked and slightly firm