Mom's recipe for sweet and sour spareribs.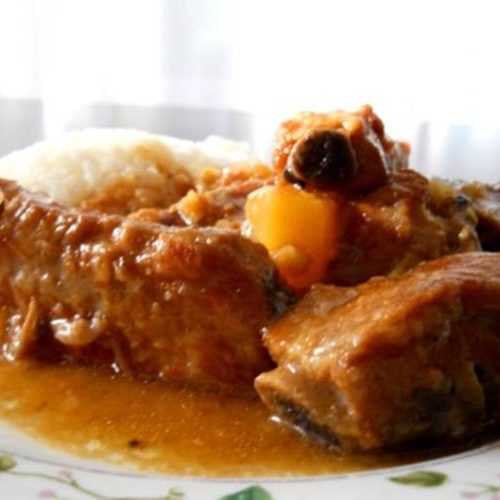 Rate This Recipe:
Ma Abraham's Sweet & Sour Spareribs
Mom's recipe for sweet and sour spareribs.
Ingredients
3 – 4

Lbs. Pork Spareribs

2/3

Cup Apple Cider Vinegar

1.5

Cups Water

2

Teaspoons Salt

1

Cup Dark Broen Sugar

20

oz Can Pineapple Chunks

1/4

Cup Aloha shoyu soy sauce

4-6

Cloves Garlic (Grated)

Fresh Ginger (2" around) Grated

Flour for dredging spareribs

Oil for frying
Instructions
Cut spareribs into 1.5" pieces or have your butcher cut the ribs for you.

Dredge spareribs in flour and fry in oil until brown. ** you may have to cook in batches to allow meat to brown**

Remove spareribs from pan and drain excess oil.

Place spareribs back into pan and pour all of the sauce ingredients over spareribs.

Add pineapple chunks with juice into pan and cook for 1 hour covered and up to 1 additional hour with cover off until meat is tender and sauce is nice and thick.