Chef Savella known as "The Kitchen Assassin," was born and raised in Lahaina, Maui. After culinary school in Southern California, Savella worked for 10 years in Los Angeles, but in 2012, Alvin returned home. He worked at the Ritz Carlton in Kapalua and later became the Chef de Cuisine at the Grand Waileaʻs Humuhumunukunukuapuaʻa.

In 2020 Chef Alvin Savella was named Executive Chef of the West Maui restaurant group including Māla Ocean Tavern, Down The Hatch, and Breakwall Shave Ice Co.

Chef Savella describes his cooking style "as a little bit suspenseful, with a few surprises here and there. Growing up in Hawaii, I learned a lot of that Pacific Rim style and, being in a Filipino family, a lot of my base style is from Pacific Rim and Filipino cooking."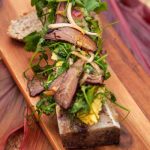 Print
Bone Marrow Steak and Eggs by Chef Alvin Savella "The Kitchen Assasin"
Chef Savella known as "The Kitchen Assassin," was born and raised in Lahaina, Maui. After culinary school in Southern California, Savella worked for 10 years in Los Angeles, but in 2012, Alvin returned home. He worked at the Ritz Carlton in Kapalua and later became the Chef de Cuisine at the Grand Waileaʻs Humuhumunukunukuapuaʻa.
In 2020 Chef Alvin Savella was named Executive Chef of the West Maui restaurant group including Māla Ocean Tavern, Down The Hatch, and Breakwall Shave Ice Co.
Chef Savella describes his cooking style "as a little bit suspenseful, with a few surprises here and there. Growing up in Hawaii, I learned a lot of that Pacific Rim style and, being in a Filipino family, a lot of my base style is from Pacific Rim and Filipino cooking."
Materials
1

each

10" Bone Marrow

4

each

Eggs

Scrambled

1

oz.

Butter

3

ozs

Pipikaula

1

oz.

Red Onion

1

oz.

Fresh Herbs

1

oz.

Mustard Vinaigrette

2

ozs

Chinese Mustard

2

ozs

Shoyu

1

oz.

Rice Vinegar

1

Tbsp.

Sesame Oil

1

Tbsp.

Grated Ginger
Instructions
Make dressing by combining and whisking all ingredients together.

Soft scramble eggs on low heat with butter.

Combine pipikaula, onions, and herbs in a bowl and dress with mustard vinaigrette.
Nutrition
Calories:
744
kj
|
Carbohydrates:
24
g
|
Protein:
38
g
|
Fat:
56
g
|
Saturated Fat:
15
g
|
Polyunsaturated Fat:
15
g
|
Monounsaturated Fat:
22
g
|
Trans Fat:
1
g
|
Cholesterol:
59
mg
|
Sodium:
5583
mg
|
Potassium:
1139
mg
|
Fiber:
6
g
|
Sugar:
12
g
|
Vitamin A:
2500
IU
|
Vitamin B1:
1
mg
|
Vitamin B5:
1
mg
|
Vitamin C:
41
mg
|
Calcium:
153
mg
|
Iron:
8
mg