I know I'm not the only one that has tried to make the famous brown gravy that smothers our hamburger steak plate lunches and makes it so ono.
This recipe is surprisingly easy and quick to make but it beats any of the bottled, packet or canned gravies. The gravy is so rich and tasty, I guarantee you will be licking your plate!!!
This works best with hamburger steak and assumes that you just finished cooking off the last of your hamburger patties and your are left with a pan full of the natural drippings and grease from frying your hamburgers. You can also make this gravy without the drippings.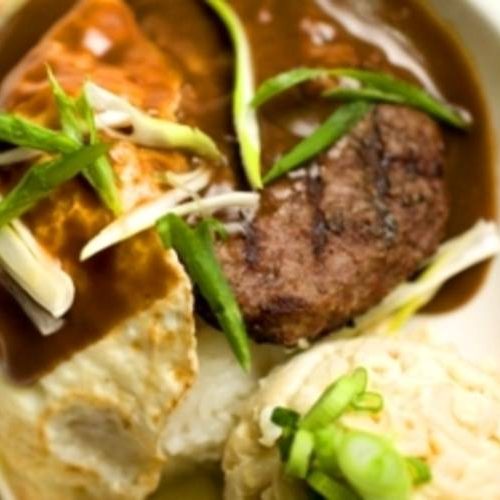 Rate This Recipe:
Killer Brown Gravy for Hamburger Steak
This is a really good brown gravy recipe that is typical of Hawaiian plate lunches and hamburger steak gravy found on Hawaiian recipe plate lunches.  This is a homemade brown gravy that is rich and delicious.
Ingredients
2

tbsp.

Butter

1/4

c.

Flour

(Wondra Flour Works Best)

1

Beef Bouillon Cube

1

can

Beef Broth

Salt and Pepper to Taste

Splash

Aloha Shoyu

(Soy Sauce)

Splash Cream or Milk

(Optional)
Instructions
In frying pan of drippings from hamburger patties, melt butter over med-high heat. 

*If you don't have drippings, I would double the amount of butter so that you have enough fat.

Once butter has melted, add flour and cook for a few minutes until the flour turns a nice light brown color.

*This adds more rich flavor to the gravy.

Add bouillon cube to mixture in frying pan and smash it down into the mixture.

Add Beef Broth and stir quickly as the gravy thickens and forms.

Keep stirring gravy using a whisk.

Add salt, pepper to taste, a splash of shoyu and a splash of milk or cream to give the gravy a nice rich flavor. 

Some people have been known to add a splash of ketchup to give it that reddish brown color and extra layer of flavor….