Curried Kabocha & Lentil Stew – We have been very fortunate to collaborate with the gang at AlohaCare Hawaii and their efforts and involvement with the community. They have been promoting healthy and affordable eating which is very important with diabetes and obesity on the rise in Hawaii.
They introduced us to Jesse Lipman who has been doing some amazing things with local ingredients and teaching the keiki how to use them in the kitchen.
This dish that he cooked on the show has to be one of my favorite healthy recipes. If you haven't had the opportunity to try lentils or aren't sure if you would like it, try this recipe… I think you will be impressed!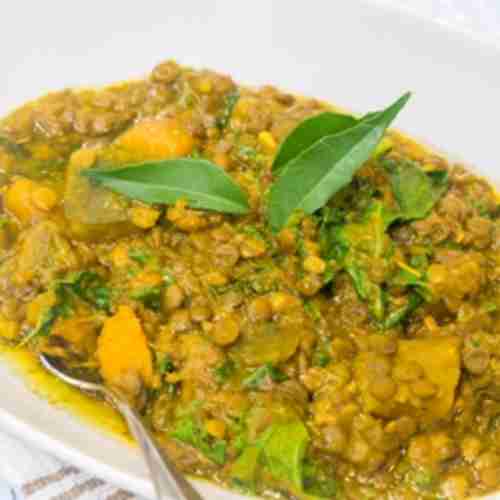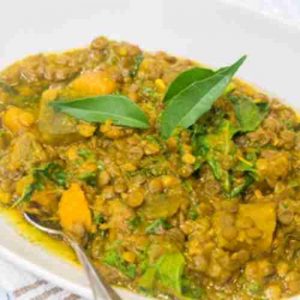 Rate This Recipe:
Jesse Lipman's Curried Kabocha & Lentil Stew
Jesse Lipman's Curried Kabocha & Lentil Stew – A delicious vegetarian and vegan (without the butter) dish that is hearty and healthy. Made with lentils, kabocha squash and curry.
Ingredients
1

kabocha squash

trimmed, seeded & cut into bite sized pieces

2

cups

lentils

washed & drained

1

large

bunch kale

5

cups

vegetable broth

1

head

garlic

chopped

1

Onion

chopped

2-3

fingers of olena

chopped

Salt & pepper

to taste

1

tablespoon

curry powder

4

tablespoons

butter*

1

tablespoon

olive oil

2-3

curry or sage leaves
Instructions
Heat a deep pan or medium stew pot over medium heat and add  1 olive oil and curry powder. 

Sautee onion, then add olena, and garlic.

Lightly salt and pepper to taste. 

When onions and garlic start to brown, add lentils and stir until everything is mixed well, cook 2-3 minutes. 

Add a little olive oil if pan gets dry. stead.

Add 4 cups vegetable broth, cover pan, adjust heat to simmer. 

While lentils cook start another sautee pan with butter and the curry or sage leaves and gently simmer.

Butter can turn brown but should not burn. 

As lentils begin to soften (about 10 minutes) add kabocha.

Also, add the leftover vegetable broth if stew gets too thick. 

Kabocha and lentils should soften together after 10-15 minutes of cooking.

At this point taste for seasoning, add additional salt, pepper, curry powder if needed. 

Add the kale and stir gently. Cook 2-3 minutes.

Strain the herb butter into the stew pot and gently stir or drizzle a little of the butter on each serving bowl instead.
Notes
*Exclude butter for vegan