Potato macaroni salad – This is a recipe that I have been using for many years already. Can't count the amount of times I've made this salad for holiday parties, family pot lucks, friends pot lucks, birthday parties, company functions… all in large quantities as there is usually someone that wants to take some home.
Through the years growing up in Hawaii, I've eaten various kinds of salads so this is a combo of all the ingredients that I liked in it.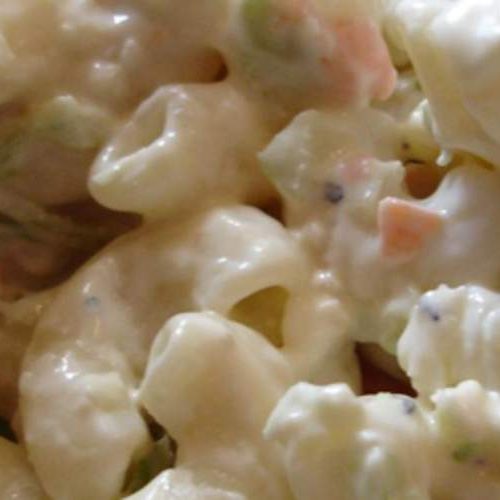 Rate This Recipe:
Potato / Mac Salad
Potato macaroni salad, a Hawaiian classic side dish unique to Hawaii and found on any potluck or plate lunch in the islands. 
Ingredients
White rose (salad) potatoes

Elbow macaroni

Frozen peas

Eggs

Carrots

Onions

Chopped olives

Mayonnaise

Salt / pepper
Instructions
Boil potatoes in a large pot until you can poke a fork into it with ease…don't overcook it though as it'll fall apart in the pot.  When potatoes are done cooking, put in a colander to drain. I wash the pot at this time and use if for boiling of the eggs and macaroni. 

Put eggs in pot with water until it starts boiling then add macaroni and cook until it's at the texture you like it…again don't overcook it! 

While the potatoes are cooking, I do all the prep work of other ingredients (chop the onions into small pieces (almost mincing it) as it's just for taste, grate the carrots, boil the frozen peas. 

When the potatoes and macaroni are done, I use a butter knife to peel the potatoes and cut into whatever size pieces I like them.

Put the potatoes, macaroni in a large mixing bowl or whatever container you are planning to use to mix the salad which would depend on how much you are making.

Add the onions, carrots (I squeeze all the juice from the carrots before) and salt/pepper to taste. 

Add the cooked peas, chopped olives and mayonnaise.

Mix to whatever consistency you want.  Keep in mind that the mayonnaise will be absorbed by the macaroni so it's a good idea to put a little extra.  
How To Serve:
Typically, I prepare this salad the night before an event.